Can anyone add, correct, identify what I've gathered so far on this picture ??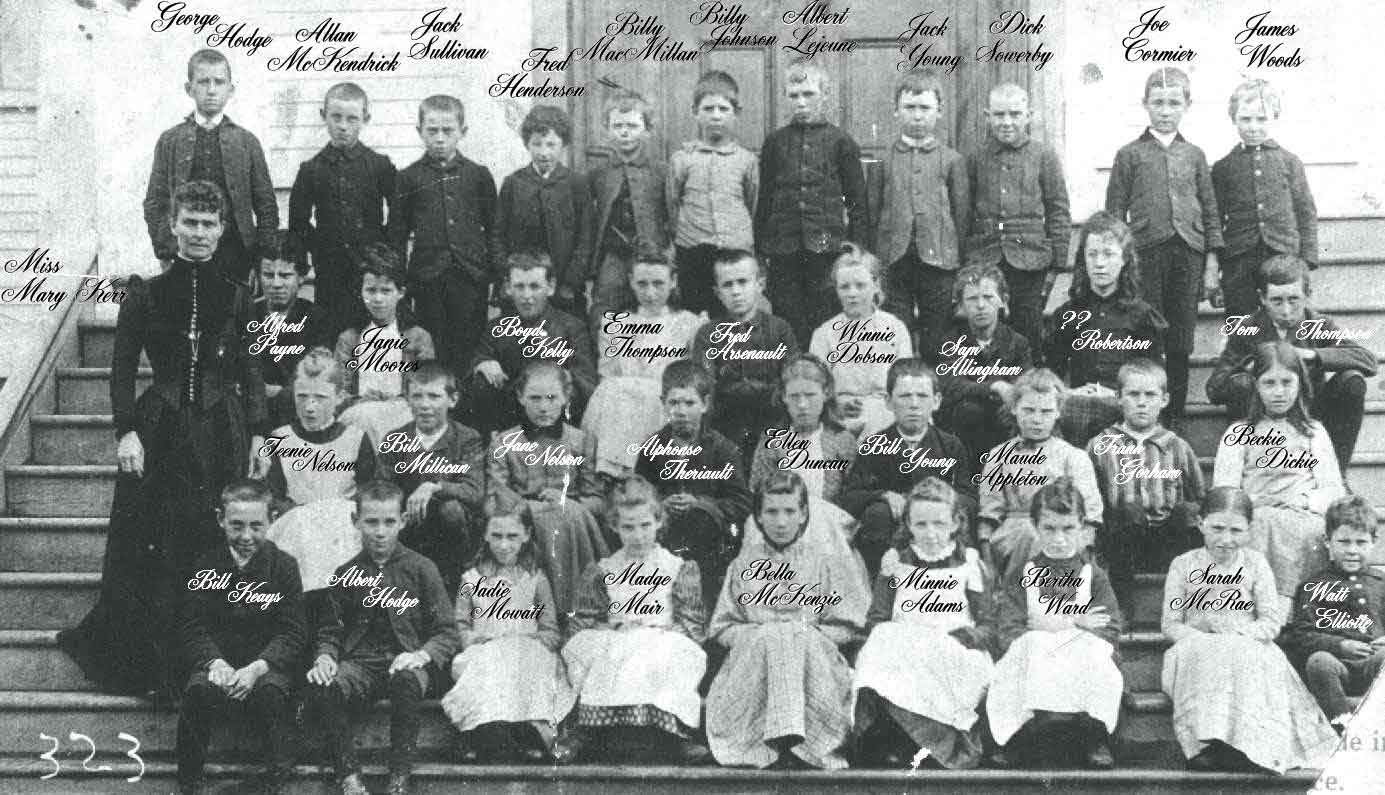 ---
George Hodge
Son of Edward and Mary Hodge, in the 1891 census, George is age 12
---
Allen McKendrick
In 1891 census, he is listed with his grand parents Allen McKendrick (1817-1896)and Elizabeth Collins (1821-1900) of P.E.I., But he is the son of John MacKendrick (1852-1885) and he is listed as being age 10. (Allen was born in 1879 and died in 1897)
The only other record I could find on the McKendrick family so far was John's marriage
and their record of being buried in Campbellton Rural Cemetery.
Mc Kendrick John, telegraph operator of Campbellton, NB, married Eliza Alvina SMITH of Rest. on Nov. 22/1876 and he married again to Isabella Sharpe.
---
Jack or John Sullivan
Son of Daniel and Elizabeth Sullivan. Jack is age 9 and his father is a Railway Engineer
SULLIVAN John married Feb. 10/1914, Emma ROY d/o Denis Roy and Mary Boudreau could this be
the same John Sullivan ??
Here is some more info a nice lady sent me
Jack & Emma Sullivan lived in Kedgwick River. They have a son Ronald wholives in Tide Head.
---
Fred Henderson
Son of John and Elizabeth Henderson. Fred is age 9 and his father is a General Dealer
---
Billy MacMillan
Son of John MacMillan and Lucy Connor. Billy is listed as being age 11 and his father a Blacksmith. William Francis MacMillan was born in Cascapedia, P.Q., and at age 26, on Sept. 28/1905, he married Sarah Grace Cooper of Glenlevit, NB, daughter of George Cooper and Elizabeth Garrett.
---
Billy Johnson
Son of James and Maude Johnson. Billy is listed as being age 12 and James is a Locomotive Foreman
---
Albert Lejeune
(sent by Claire Brewer)
The picture is the Campbelton Class of 1890 with Miss Mary Kerr as their teacher. You had asked if anyone had info on any of the students. My grandfather is Albert Lejeune in the top row of the picture.
Here is some information on my Grandfather Joseph Albert Lejeune;
He was the son of Joseph Lejeune and Marie Melanson.
Born April 25,1879 in Petit Rocher, New Brunswick.
He married Felicite Frenette in Petit Rocher.
They had 15 children (My Dad was the baby)
He was a member of the 1912 Campbellton Brass band.
He worked as a Muralist
He loved the arts and passed down this love for the arts in music, painting etc. on to his family.
---
Jack Young
?? nothing could be found in the 1891 census for him
---
Dick Sowerby
Only one Sowerby in the 1891 census age 11, named James (Dickinson) and he is son of James Sowerby and Elvira Darling, a mill owner. James (Dick) was born in 1880 and died in 1916
His father James D. died Feb. 10/1903 at age 58 years and his mother died Aug. 7/1901
at age 63 years

A nice lady sent me this info so far:) In your other 1890 photo J.D.(Dick)Sowerby is a cousin to Guy Farrer.
---
Joe Cormier
Nothing could be found on him in the 1891 census
---
Jim (James) Woods
Jim is son of James Woods and Mary Caroll. He is listed as being age 9 and his father is a Stevedore. James or Jim married Adele Albert on Oct. 7/1912 daughter of Samuel Albert and Mary Gathereau
---
Miss Mary Kerr
Following information received from Ted Porter and he would love to hear
from anyone who would have any additional information about this family
at atporteryh@yahoo.com
Miss Mary Kerr is the sister of my grandmother. I have anotherpicture of her and it is the same person. I believe Mary wasthe nineth child of Robert Kerr and Catherine Getty Kerr ofBathurst. She was born April 11, 1856 and died in 1937. Shenever married, was a school teacher and I was told lived inBathurst.Mary's brothers and sisters are: Thomas, Elizabeth (McLean),Henry, Andrew, Isabella (Curry), Margaret, Alexander, Sarah(Parsons), Mary (in the picture), John, Robert, Mima (Porter)(my grandmother), and half sister EllenRobert Kerr (Mary's father) was an emmigrant to NB from Irelandof Scotish background who had followed his father to NB. Hisfather, who worked in logging, had died in a forest fire near NBprobably in the 1830's shortly before Robert arrived. Robertmarried Catherine Getty in 1838, and Sarah Hall in 1870.Catherine Getty was born near Glasgow and came to NB with twosisters (Sarah and ? ) and a brother John.
---
Alfred Payne
Son of John Payne and Joanna Buckli ?born in Balmoral, NB, In 1891 census, Alfred is listed as age 13, and his father is a millman. At age 23, on Sept. 9/1899,
---
Janie Moores
?? nothing was found on her in the 1891 census
---
Boyd Kelly
Son of James and Annie Kelly. Boyd is listed as being age 15 and his father is listed as being a Blacksmith
---
Emma Thompson
Daughter of widow (of George) Martha Thompson. Emma is listed as age 12
---
Fred Arsenault
I find one Fred Arsenault age 10 in Dalhousie but none in Campbellton
This Fred is son of John Isaac and Liza Arsenault and are farmers??
---
Winnie Dobson
Is listed as age 13 and a lodger at William Williams
---
Sam Allingham
Sam or Samuel son of John and Jane Allingham. Age 10, and his father is a Machinist
Samuel Allingham died at age 15 years, april 15/1897
---
? Robertson
---
Tom Thompson
Thomas or Tom is son of William and Mary Thompson. age 13 and his father is a Lumberman
---
Teenie Nelson
Teenie or Christina is age 10 and daughter of widow Flora Nelson
---
Bill Millican
William is age 12 and son of John Millican and Lizzie (Elizabeth Jane Blake)
John is listed as a Millwright
William Robert Blake Millican married Mary Nolan MacBeth. He died in 1941 and she died
in 1974. They were both born same year in 1879.
---
Jane Nelson
Jane is age 11 and daughter of Flora Nelson widow of David Nelson.
David was born in 1849 and died in 1887. Flora was born Aug. 15/1853 and she died Jan. 25/1910.
---
Alphonse Theriault
Nothing was found on him in the 1891 census
---
Ellen Duncan
Widow Ellen Duncan has a daughter age 10 called Jane ? ?
---
Billy Young
Billy or William is son of Robert Young and Agnes (Gerrard). He is listed as being age 11 and his father is a Railway Employee and a Foreman in the ICR carshed in 1881
---
Maude Appleton
Dorothy Maude is the daughter of Walter and Mina Appleton, she is listed as being age 8 (born Jan. 9/1883) and Walteris a Machinist
---
Frank Gorham
Son of widow Mary Gorham, listed as age 11 and Robert Duff is a boarder with them
---
Beckie Dickie
Beckie or Bessie daughter of William and Margaret Dickie. Bessie is age 10 and William is listed as being a Harness Maker.
Here is the info I received, after placing it online, from Faith Travers-Amadio
on Bessie who was her grandmother's sister
"Bessie is one of 9 children and the daughter of William DICKIE(born 1840, in Cape Traverse, PEI, died about 1926) and Esther AKERLEY(born Jan. 3rd, 1842 in Maitland, NS, died about 1885).....William DICKIEre-married the widow, Margaret Ann Thompson (nee INNES, born 1850 inDundee, NB, died 1929) sometime after Esther died, obviously. Margarethad two children from her first marriage - Jessie and Rebecca. Together,William and Margaret had four more children".
---
Billy Keays
Billy or William Keays, I believe is the son of William Keays and Isabelle Harper. In the 1891 census, they are listed as having on son Stanislas who is aged 3 yrs, one daughter Gertrude who is only a month or two old and a son named William who is listed as being age 17, I believe this should read age 7 and not 17, they are the only Keays family with a William ?.
---
Albert Hodge
son of Edward and Mary Hodge, listed as age 10, his father is a Butcher
---
Sadie Mowatt
Nothing found for her in the 1891 census
---
Madge Mair
Madge or Marjorie is daughter of John Mair and Catherine Firth. Marjorie is listed as age 7 in the 1891 census. The Mairs are farmers.
I have a Marjorie F. Mair who married Donald McacLean ?? She was born 1882 and died 1977
Donald was born 1876 and died 1962.??
---
Isabella (Bella) McKenzie
daughter of Robert McKenzie and Eunice?, in the 1891 census, she is listed as age 11, with brothers and sisters: Effie aged 16, Debera aged 9 and Maria aged 6.
---
Minnie Adams
Daughter of John and Mary Adams. She is listed as age 11 and parents are farmers
They built their home at the foot of Adam's hill in Campbellton, Minnie was apparently
around 70 yrs old when she died in 1954. She never married.
---
Bertha Ward
Bertha or Alberta is daughter of John Ward and Catherine McPherson. She is listed as age 11 and father is a RR employee. Bertha M Ward was born in Buctouche, NB, and on Sept. 28/1904 she married at age 23, Michael Dooling. Michel was a Brakeman on the railroad and was born in Gaspe, P.Q. and he was living in Moncton, NB., at the time. He was the son of Michael Dooling and Josee Lynch.
---
Sarah McRae
Daughter of William and Mary Connel. She is listed as age 9 and her father is a Shoemaker
---
Watt Elliott
Nothing was found on him in the 1891 census.
Arthur J. Elliott is the only Elliott
found in the Rural Cemetery he was born 1882 and died 1968. ??
---