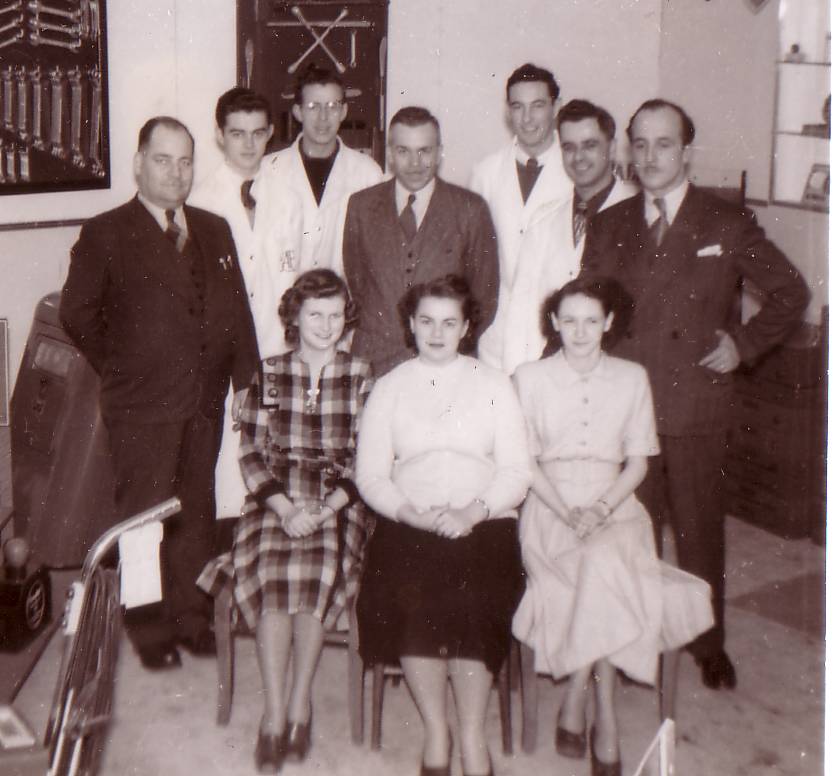 Apparently people from Campbellton who worked at the Quincaillerie Bernier (Hardware) (Later became Bradley & Walsh) ca 1958 ?
Photo sent by Lise Fournier and her father, Edgar Fournier, is standing second from right, others are unknown.
An email received from Tom Wright of the Moncton area states:
The correct name was Antoine Bernier, Ltd.
Bernier's was an automotive supply outlet. With it's main office in Quebec City, they also had another outlet in Riviere du Loup. In the late 50's, the chain suffered a set back and Campbellton was closed; shortly after that, The Walsh family moved their plumbing business into the building. Originally Walsh's Plumbing was in the building immediately east of Bernier's.
The gentleman on the left in the dark suit is my father, Wendell Wright. Dad was their 'salesman' (traveller) covering Restigouche, Gloucester counties as well as the Chatham-New Castle area.
It has been so long, but the tall gentlemen in the back right should be Bev McNaughton. The youngster standing behind Dad could be Paul Fournier. (e-mail from Lise Ausman says not Paul Fournier)