Obituaries


Austin Dobson
Passed away at the Campbellton Regional Hospital on March 8, 2008, of an accidental death at the age of 8, Austin Michael Dobson.
Born on July 14th, 1999, he was the son of Frances Delaney (Sheldon Dedam), Berry Dobson (Jessica). He leaves to mourn his older brother Brandon Delaney, grandmother Honey Delaney, two stepsisters, Erica and Cassandra, and a stepbrother, Jonathan. Many aunts and uncles, cousins, friends, classmates, and teachers. He was the grandson of the late Earl Delaney. He was a grade 3 student at the Lord Beaverbrook School, Campbellton. Austin was a little man who enjoyed the outdoors, shoveling was his greatest past time, he also enjoyed his four-wheeler. He was known to several city workers as the "BOSS".
Austin brought a smile to everyone's face, even strangers; he will always be remembered for that great smile. Austin will always be in our hearts and forever in our memories. Austin was the star of the month for February at the Lord Beaverbrook School, but he will always be mommy's little star.
Funeral services were held at 2 pm, Thursday, March 13th, 2008, from Maher's Funeral Chapel, with Reverend Kraglund officiating. Readings were done by his older brother Brandon, Lori Henderson (principal), and Maria Thompson (homeroom teacher). Pallbearers were Paul Leblanc, Steven Tennier, George Court, Phillip Cyr, Berry Dobson and Jonathan Goulete.
The family would like to thank friends, the doctors and staff at Campbellton Regional Hospital, the community at large for their sympathies and support in this time of sorrow. Funeral arrangements were held in the care of Maher's Funeral Home, Campbellton.

Bernus Norman Grey
With heavy hearts we announce the death of Bernus Norman Grey of New Maryland, NB at the Dr. Everett Chalmers Hospital on March 16, 2008. Born in Scotch Settlement, NB on May 4, 1931, he was a son of the late Ethel (Clark) and Norman Grey.
Bernus is survived by his wife of 54 years, Geraldine (Chesser), his beloved four children and twelve grandchildren; Nancy (Brad) Nickerson and Michael, Sonya (Jeremy) Burrill, and Jarett; Rick (Carolyn) and Keara, Connor, Ronan and Ethan; Lewis (Janet), Corey, Jason and Brittany; Linda Grey (Jean Marc) Simard and Michelle and Marissa; three sisters Myrtle Whitehead, Ellen Price and Evelyn (Ray) Galloway; his mother-in-law Jean Chesser; three sisters-in-law Margaret Brewer, Janice Firth and Judy (Robert) Allen; many nieces and nephews.
In addition to his parents, he was predeceased by a brother Elmer; sister Mary Jones; father-in-law Gerald Chesser; brothers-in-law Guy Jones, Eldon Yerxa, Albert Whitehead, Tommy Price, Eugene Brewer, Stillman Firth; a special niece Maxine (Grey) Edmondson; special nephew Howard Yerxa.
Bernus worked many years for Mussen's Canada Ltd. and later for Lounsbury Industrial Ltd., took pride in his work and valued the people with whom he worked.
Bernus enjoyed being with his family first and foremost, working on his "old" machines, hunting, fishing, boating, cross country skiing, and snowmobiling.
His wishes for a private family funeral were respected. Funeral was held on Wednesday March 19, 2008 from Bishop's Funeral Home Chapel at 1:00 pm with Rev. Ralph Irving assisted by Rev. Peter Thomas. Family gathered at Bishop's Funeral Home beginning at 12:00 noon.
In lieu of flowers, donations to York Manor, Canadian Red Cross or the Heart & Stroke Foundation would be appreciated. The family is sincerely comforted by the guidance of Bishop's Funeral Home in this time of need and sorrow.
www.bishopsfuneralhome.com

Daniel St-Laurent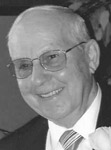 The death of Daniel M. St-Laurent of Belledune, occurred peacefully Saturday March15, 2008 at the Bathurst Regional Hospital at the age of 80. Born in Causapscal, Quebec, he was the son of the late Georges St-Laurent and Emma (Gagnon).
Throughout his illness, he always kept his smile and sense of humour. Daniel worked as a station agent for the C.N. for 19 years, owned and operated the Irving garage in Belledune for many years and operated Les Specialites de Pointe-Verte. He was an active church member, a member of the board of the Caisse Populaire and also served on the environment committee for the region of Belledune.
He is survived by his wife Helene (Senechal), daughters Anne Armstrong (Don) of St. Stephen, Lucille St-Jules (Luc) of Moncton, Pauline St-Laurent-Pinto (Glenn) of Dieppe and Cecile St-Laurent (Lee Branch) of Bathurst. He is also survived by his 5 grandchildren Lyne St-Jules, Sebastien Pinto, Nicolas Pinto, Celeste Lee Branch and Annabelle Ling Branch as well as a brother Yvon of St. Quentin and a sister Georgette Bergeron of Atholville.
His funeral was held from St. John the Evangelist Church, Belledune on Wednesday, March 19, 2008, officiated by Father David Ferguson with burial to take place in the parish cemetery in the spring. Pallbearers were Flavien Guitard, Jean-Eudes Parent, Yvon N. Legace, Yves Senechal, Normand Bergeron and Fidele Guitard.
Those wishing to make donations in memory of Daniel; The Canadian Cancer Society, Bathurst Palliative Care Unit or charity of the donor's choice would be appreciated by the family. Funeral arrangements are in the care of MacMillan's Funeral Home, Black Point.
www.macmillansfuneralhome.ca

Donna Joan Waller (Parent)
The death of Mrs. Donna Joan Waller (Parent) occurred on March 8, 2008, at the Rouge Valley Hospital in Toronto. She was 64 years old.
She was the daughter of Amedie and Eva Parent of Dalhousie.
She was predeceased by her husband Mr. Bob Waller of Toronto, her father Mr. Amedie Parent, her mother Mrs. Eva Parent (Frenette), her brothers Leo, Raymond, Jackie (all from Dalhousie), Ronald (Montreal) and her sisters Mrs. Wilma Goyetche (Montreal), Mrs. Jacqueline Leblanc (Kapuskasing, Ontario) and Linda (Dalhousie), as well as her maternal grandparents. She is survived by her sons Patrick (Sheree) and Robert and her daughter Julie Anne (Dougie) as well as two granddaughters Felicia and Savannah and one grandson Tylor.
She is also survived by her sisters Mrs. Shirley Wedge and Marie Diane, both of Dalhousie, her brothers Maurice (Montreal), Carl (Toronto-Campbellton) and Vernon (Campbellton), as well as many nieces and nephews.
Her funeral was held on March 14, 2008, at the McDougall and Brown Chapel in Toronto.

Elizabeth (Betty) Valdron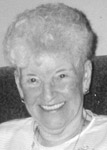 The death of Elizabeth (Betty) Valdron occurred at the Campbellton Regional Hospital on March 16, 2008, at the age of 86. Born in Lac Aux Saumon, QC, she was the daughter of the late William Leboeuf and the late Georgina Savoie.
She is survived by her husband Earl (Chum) Valdron, step-daughters Marsha Valdron of Dalhousie, Peggy Berthelot (Leonard Ratte) of St. Jean Baptiste and Sylvia Valdron (Ronald Laviolette) of Dalhousie, three grandchildren, six great grandchildren, one sister Alice Leboeuf (Pierre Beaulieu) of Laval and three brothers Leonard Leboeuf (Marlene) of Laval, Bill Leboeuf (Maureen) of Mississauga and Gordon Leboeuf (Shirley) of Creston, BC.
She was predeceased by brothers John, Valmond and Vincent and by sisters Edna Isaac-Mann, Lillian Martin, Margaret Jolicoeur and Yvonne Freeman.
Funeral services were held from St. John Bosco Church Dalhousie on Wednesday March 19th at 4pm, with Father Bill Arsenault officiating.
Donations to the St. John Bosco Parish would be appreciated by the family. Funeral arrangements were in the care of Maher's Funeral Home Dalhousie.

Irene E. Dow (Ditty)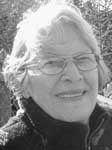 Passed away at the Campbellton Regional Hospital on February 28, 2008 at the age of 86, Mrs. Irene E. Dow (Ditty). Born in Campbellton on February 23, 1922, she was the daughter of the late Harry Forster and the late Evelyn Ward. She was retired from the Soldiers Memorial Hospital, a former Sunday school teacher and a former member UCW Eastern Star.
She leaves to mourn her daughter Marlene Wirtanen (Maxwell), her son William F. Dow (Denise), her brothers Bud, James, and Vernon (Skip) Forster. Also survived by her grandchildren Brandi Furlotte (Derek), Cory Wirtanen, Mathieu Daigle (Joanne) and Dominique Dow, her great-grandchildren Kailyn Wirtanen, Connor Furlotte and Jeremy Daigle. Predeceased by her husband Lester (Bud) Dow and her daughter Shelley Lynn.
The funeral service was held from Maher's Funeral Chapel Campbellton on Sunday, March 2nd, at 2pm. Reverend Raymond Kraglund and Reverend Geneviève Trudel officiating. Interment at the Campbellton Rural Cemetery this spring. Honorary Pallbearers were Paramedics Donat Paulin, Kenny McNaughton, Dave Benwell, Jean Yves Raymond, John LeBlanc, Yves Goudreau, Mathieu Allard, Kayla Knowles, Luc Beaudoin, Pierre Luc Perron, Steve Irvine, Jean Marie Bujold, Melanie Lavigne, Rick Hosegood, Ricky Quinn and Tammy Englehart.
Funeral arrangements were in the care of Maher's Funeral Home, Campbellton.

Percy Donald (Sonny) Hocquard
August 29, 1937 to March 14, 2008
Family and friends were saddened to hear of the death of Percy Donald (Sonny) Hocquard on Friday, March 14, 2008, after losing a courageous battle against pancreatic cancer. He was 70 years old.
Donald was the only son of the late Percy and Eva (Young) Hocquard and brother of the late Helen (Hocquard) McDavid of Campbellton, New Brunswick.
He was also predeceased by his beloved wife Mary Myrtle (Van Horne) Hocquard from Shives-Atholville, New Brunswick, and later of Fort Nelson, B.C. He is survived by his daughter, Lisa Hocquard of Prince George, B.C. He was born in Restigouche County, Campbellton, NB, where he attended local schools, graduating in 1958. He moved to Fort Nelson, B.C., in the late 1970's where he worked for many years at West Coast Energy. He later moved to Burns Lake, B.C. and spent many years at his cabin on the lake, fishing and enjoying his retirement.
Many thanks to the Burns Lake Regional Hospital for their excellent and compassionate care to Donald, making his final days peaceful. As per his request, he will be cremated and buried beside his wife in Fort Nelson, B.C.

©2001 RestigoucheNet - All rights reserved
info@restigouche.net