Obituaries


Joseph Richard Earl Doucet
July 7, 1925 - May 7, 2006
Peacefully at the Campbellton Regional Hospital in his 80th year, Earl Doucet of 188 Lily Lake Road, Campbellton, New Brunswick, passed away. He will be sadly missed but lovingly remembered.
Born in Campbellton on the 7th of July, 1925, he was the son of the late Joe Doucette and Martha LeBuffe. He was a member of the Campbellton Legion Branch 19, having served overseas during the Second World War. Upon returning home he worked the family farm until he took a job with the CNR in 1946. On September 5th, 1949 he was united in marriage to Rose Marie Boudreau, enjoying 56 years of marriage before his death. He started his electrical company, Earl's Electric, in the late fifties and continued to work both jobs until his retirement from the CNR in 1981. He retired from and closed Earl's Electric in the late eighties. For many years he served the parish of St Thomas Aquinas Church as an usher and was often found helping out at various parish functions until failing health prevented him. Throughout his life Earl always enjoyed the many hunting and fishing trips taken with family and friends. Ultimately though, his greatest joy was his family and grandchildren, which he showered with constant love and affection. He was deeply loved and his wonderful presence will be missed by all who loved him.
He is survived by his loving wife Rose Marie (Bobbie); his sons Garry (Lynn) of Campbellton, New Brunswick, and Wayne (Claudette) of Manitoulin Island, Ontario; his daughter Barbara (Gilles) Belanger of Campbellton, New Brunswick; his six grandchildren, Jeremiah, Tara, Jessica, Tiffany, Line and Cindy; his brother Venner Doucet; and by his nieces, nephews, other relatives and friends. He was predeceased by his infant son Richard, and sisters Agnes Hamilton and Pearl Landry.
His funeral, officiated by Father Bill Arsenault, was held from St Thomas Aquinas Church on Friday the 12th of May, 2006, and followed with burial in the parish cemetery. Pallbearers were Garry Doucet, Wayne Doucet, Jeremiah Doucet, Gilles Belanger, Ronald Dobson, and Romeo Casey. Honourary Pallbearers were Venner Doucet, Alfie Allard, Donald Arsenault, Joe Coughlan, Claude Dobson, David Hachey Sr., Eddy Martin, Tom McBrearty, Maurice Parker, Jean Roussy Jr., Raymond Stewart, Clem Vick, and Branch 19 Legion Members. Funeral arrangements were in the care of Maher's Funeral Home.

Joyce Mabie
1937 - 2006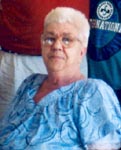 On May 10, 2006 at the Campbellton Regional Hospital, passed away at the age of 68, Mrs. Joyce Mabie, of 49 Highland Dr., Tide Head, wife of the late Jack Mabie (1st husband) and the late Robert Chamberlain (2nd husband). Born in Matapedia, QC on August 26th, 1937, she is the daughter of the late Herdman MacCullum and the late Elizabeth McDavid.
She leaves to mourn her sons: Kim (Cindy) Mabie, Moncton, Clyde (Linda) Mabie, Moncton, Allan Mabie, Alberta and Jon Mabie, Tide Head; her sister: Norma (Fred) Gibson, Ontario; one sister-in-law: Joyce Anthony; her brother: Ralph (Katie) MacCullum, Ontario; special friends: Jocelyne Paulin and Shonnah O'Connell and by her grandchildren, great grandchildren,many nieces and nephews. She is predeceased by one brother Boyd MacCullum. Funeral arrangements were under the care of Maher's Funeral Home, Campbellton.

Maria Arseneault
1929 - 2006
At the Campbellton Regional Hospital on May 5, 2006 at the age of 76, passed away Mrs. Maria Arseneault, wife of the late Zoël Arseneault, from Balmoral.
Born September 30, 1929 in Balmoral, she is the daughter of the late John P. LeBlanc and the late Angélique Poirier.
She leaves to mourn her daughter Marguerite (Ricky Morris), Dalhousie, 3 sisters: Mélanie Dugas, Balmoral, Armandine LeClair and Alida Levesque, Eel River Crossing; one brother Alvin LeBlanc (Hectorine), Atholville and one sister in law Rose Aline LeBlanc from Balmoral.
The funeral was held from St. Benoit Church, Balmoral, Monday, May 8th at 4 pm. Father Léo Lanteigne officiating. Burial in the St. Benoit parish cemetery. Funeral arrangements were in the care of Maher's Funeral Home, Balmoral.

Marion Grace Dumville
Marion Grace Dumville passed away on Friday, April 28, 2006, at the age of 81.
A daughter of Robert Edward Blaikie and Elinor Grace Downs, Marion grew up on Kempt Road/Broadlands, Quebec.
She was predeceased by her husband Winston, sister Emma and brothers Walter, Harry, Alfred and Alden. Marion graduated from high school in Point Aux Trembles Quebec, attended McDonald College and also graduated from the Commercial program at Campbellton High School. This lead to working in naval communications in both Gaspe and in Ottawa during World War II. Marion came to Dalhousie to work in the office at the paper mill and thereafter became a long time resident of Dalhousie and Point La Nim. She is survived by her sons: Brock (Claire) of Ottawa, Ontario and Bruce (Beulah) of Beaconsfield, Quebec. She is also survived by her three grandchildren: Brock, Oliver and Kylie.
A special thank you to Theresa for being there.
A funeral service was held Thursday, May 4 at the St-John's United Church in Dalhousie with interment at the United Church cemetery in New Mills. Pallbearers were James (Jimmy) Doucet, Brock Dumville, Oliver Dumville, Allan LePoidvin, Harry MacNeish and Howard Scott Funeral arrangements were under the care of Maher's Funeral Home, Dalhousie. In lieu of flowers, donations to the Heart and Stroke Foundation would be appreciated.

Lapointe, Thurlin Edmund

Lapointe, Thurlin Edmund (Ed), 62, Debert, Novia Scotia passed away at the Colchester Hospital in Truro on May 11, 2006 after a courageous nine year battle with leukemia. Ed was born in Campbellton, New Brunswick on March 27, 1944 and was the eldest son of the late Edmund Lapointe and Mary Elizabeth (Furlotte) Lapointe.
Ed graduated from Campbellton High School in 1963 and then worked in Hamilton, Ontario until joining the Air Force in 1966, retiring in 1994. After retirement, Ed drove for CTCL, Lafarge Canada and Acadia lines until 2003. Ed loved touring the countryside on his motorcycle.
Ed is survived by his wife Gail (Mullen) Lapointe, Truro, his mother Mary Elizabeth Lapointe (Mamie), Campbellton, NB, His brother Everette (Lise) Lapointe, Campbellton, NB, and their sons Shawn and Patrick Lapointe, Quebec and brother Allan Lapointe, Comox, BC, Ed will sadly be missed by his family, friends and "special" buddy Max.
A Heartfelt thanks to Dr. Orvielle Hayne, Halifax, Dr. Robert Graham, Truro and the wonderful staff at the Medical Day Unit and the nurses on the third floor at the Colchester Hospital for their kindness, support and compassion.
Cremation has taken place. A Memorial Service will be held in Campbellton, NB at a later date. Donations in Ed's memory may be made to the Canadian Cancer Society. Arrangements are under the care of Serenity Funeral Home & Crematorium, P.O. Box 238, Port Williams, NS, B0P 1T0. Cards of sympathy may be sent to this address or online at serenityfuneral@ns.sympatico.ca.

Virginia (Jinnie) H. Rupp (MacDonald - nee Porter)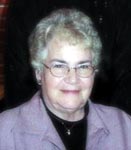 Virginia (Jinnie) H. Rupp (MacDonald - nee Porter) It is with great sadness that we announce the passing of our Mother, on May 9th, 2006, at the George Dumont Hospital in Moncton, NB.
As per Mom's wishes, there will be no funeral services.
This wonderful friend to all, and a truly amazing Mother, gave all of us the special gifts of love, laughter, encouragement and so much more.
May your memories of her, bring a smile to your face.
"Jinnie" is survived by 9 children, John, Debbie, Anne, Sandra, Stephen, Pam, David, Heidi and Mark, 15 grand-children and 3 great-grand children.